Listen: Urgent steps to re-ignite Nigeria's economy, Shipowner shares insights
…Says work must move fast to avoid depression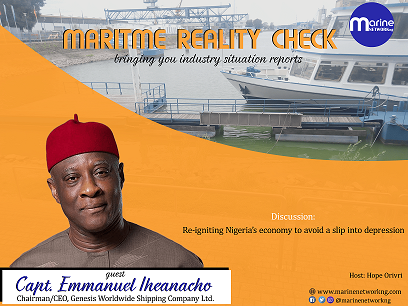 On this edition of "Maritime Reality Check," Shipowner and CEO of Genesis Worldwide Shipping Company Ltd., Captain Emmanuel Iheanacho, says Nigeria's economy needs to wake up to all the activities it used to do , including imports and exports as well as production, rather than remain under the illusion of the Covid -19 lockdown.
His advice, as he highlights, is for the economy to avoid falling into a depression. He says that though people experience Covid-19 daily, they were getting more familiar with it and how to better stay safe.
Economic activities, he says, are what would prompt request for shipping services and the ripples effect would drive the economy steadily to recovery after the long low activity condition.
Host: Hope Orivri.
Transcription:
Covid-19 lockdown has been eased considerably, what should be Nigeria's economy take-off points now?
All the things that we were doing before Covid struck; infrastructure projects, trading, exporting oil, importing consumables, setting down polices so that there is import substitution so that we can have those goods produced in Nigeria. There is really so much to do. It isn't good enough for us to still be under this illusion that we are in lockdown.
Yes, people are experiencing Covid and on an everyday basis, people are getting more familiar with the disease and how to handle it and alongside all that, you have to re-ignite your economy or else we would go into terrible depression and that would cause a different set of problems on its own. So, these are things that we should do.
So, if we start trading, exporting, it would place a demand on ships to move the goods. Unfortunately, we don't have our own tankers, we have to try and buy them. The, it place a demand on shipping to be provided to bring in imported goods. Again, we don't have any ships. So, we must deal with that primary requirement for us to participate in the provision of shipping services, which serves our trade. These are the things that need to be done.
The issue of indigenous shipowners making attempts at active participation to carry our own cargo, can they begin to address that now?
The industry must continue to look at that because, that is an issue that we had highlighted for so many years. The issue of why it is not correct for us to continue to sell our oil, for instance, on an FOB basis. And by so doing, we absolutely deny ourselves the opportunity of participating in shipping that oil to foreign refineries. So, we need to address that issue.
And that is one of the simplest because, if you look at the other types of shipping that we could get involved in, shipping liquid cargoes in bulk is so simple. It needs the ship that conforms to the standards that carries crews who are STCW compliant and it involves carrying one generic type of cargo. So, you pump it full of oil and you transport it.  It isn't as difficult and as complex as someone who was required to structure a liner shipping service, where you would have carry about a thousand two thousand containers and those containers requiring different means of maintaining them in transit and also structuring the service itself.
I don't understand why we have talked about it for maybe nearly 20 years, continue to emphasize it, that we are a major exporter of oil and we must add value to our trade by supplying the shipping services which is required to carry this oil to foreign refineries. So, we must continuously address this issue. And if there are any problems, when we get to those problems we try and solve them.
But really, I don't think there are any major issues with respect to our capacity to do thing. It is really the point that we have the political Will to change the terms of trade, which NNPC had signed a long time ago, where goods are sold on an FOB basis. But of course, there is a provision in that contract that allows that subject to sufficient notice or three months' notice, you can say well, I want to sell it on a CIF basis and then you be required to field vessels that are safety compliant and crews that are absolutely STCW compliant as well.
How much can private financing do in this regard for the shipping sub-sector?
Well, private financing can do quite a lot. When you talk about financing, you require the ability to access funds to buy ships. And those funds would come at a cost. But, not at the rate of bowing as within the Nigerian economy.
The Nigerian Government has resources, so, if the government fully appreciates the role that shipping would play in facilitating trade and so many other things, then the government should be able to make provision for the availability of financing at the same cost that our competitors are likely to get it for. But certainly you cannot compete in shipping if you are hoping to borrow money at 20, 25 per cent. It absolutely will not work.
So, we have to appreciate the importance of shipping directly as a means of moving international trade goods and as a means of developing our trade and also developing our economy. So, if what it takes is for us to lay down some sort of funding that people can access, then that is absolutely what it takes and it needs to be done.  But, it isn't an option to sit down and do nothing, and just assume that well for years we never participated and we are never going to participate.
What are your hopes for the industry outlook in the near future? Like before the end of 2020?
I think it will be necessary for us to continue to talk about these issues. For us to continue to emphasize to our policy makers the need for them to take concrete action. It isn't sufficient for everybody to sit back and we talk and don't do anything. We must do something about it. We need to establish a proper national fleet. It would best to be owned under private sector auspices. There would be requirement to provide financing for it and I think that the government is in position to make that provision so that we can have a developed fleet servicing our trade.