Lagos State, NPA collaborate on effective traffic management in Apapa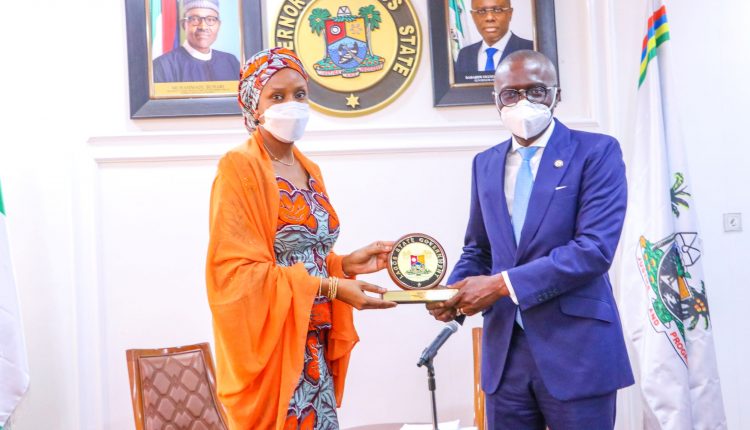 The Lagos State Government and Nigerian Ports Authority (NPA) are working together to ensure sanity in traffic flow within the port city of Apapa.
The NPA has already set in place an electronic call-up system to ensure that trucks only come around the port area when they are called from their various approved truck parks.
A key point of note in this effort would involve impounding of trucks packed along the port access roads. This task will be taken care of by the taskforce that is already set up by the Lagos State Government.
The development was disclosed on Tuesday when Governor Babajide Sanwo-Olu received the NPA Managing Director, Ms. Hadiza Bala Usman, in audience at the State House, Alausa.
Sanwo-Olu expressed optimism that the electronic call-up system would end the Apapa gridlock. He said the call-up platform would be complemented with virtual dashboards that would be placed in strategic locations around the seaports, where all stakeholders will monitor scheduling of container movement.
The governor praised NPA for the innovative approach towards tackling the menace of trucks around the ports, pledging that the state government would sustain the effort with strict enforcement of traffic regulations along the Apapa corridor.
"This is the beginning of a better journey time for our citizens within the Apapa seaports and environs. This electronic system has limited interface with security operatives and unions, which usually cause the gridlock problem. It will be a simple case of possessing electronic clearance. If you don't have it, you don't have any reason to be around the seaports.
"In enforcing the new regulations, we are deploying more than enough towing vehicles to impound erring trucks. The huge amount to be paid as fine for flouting the call-up system will be a deterrent for drivers not to repeat it. The stakeholders need to understand we are serious about ridding Apapa of the menace that has brought pains to our citizens living and doing businesses along the corridor," the governor said.
Sanwo-Olu said the state government would be deploying 500 officers of the Lagos State Traffic Management Authority (LASTMA) to work with NPA and enforce the new rule, directing the agency not to spare any effort in achieving free flow of traffic in Apapa.
Usman said the visit was to brief the governor on the status of the electronic call-up platform before it would be fully launched.
She said the development underscored NPA's commitment towards ending the menace of trucks around the seaports.
According to her, part of the advantages of the new system is the creation of eight approved parks where all trucks must first be stationed before being electronically called into the seaports.
Credit: The Guardian